Of pastimes and past times
July has been an extremely wet month so far and I am missing the Grecian sun. We spent ten days at Lindos, Rhodes again in the second half of May "en famille". A leisurely lunch of calamari and an assortment of other dishes at a beachside taverna is a delight but all too soon over.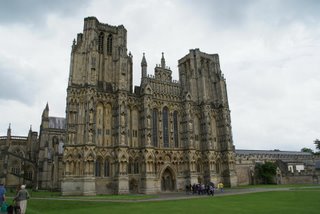 In complete contrast we spent my July birthday dodging clouds in Somerset. We took my father-in-law to visit some of the villages where his ancestors lived in the 16th, 17th and 18th centuries. On the way home we stopped at Wells to gaze briefly at the Cathedral (right), which is truly awesome - what an endeavour!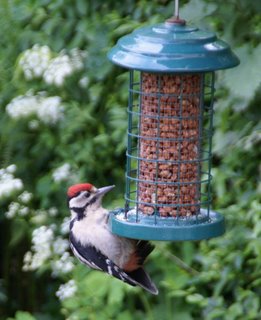 I spend so much time in front of a computer screen, either in the studio or doing my admin, that a good outlook is essential. My desk looks out onto a small garden enclosed by hedge. I have a pond with shubumkin, ghost fish and tench and a wonderful array of birds. One of the rare and infrequent visitors to my bird tables is the Willow Tit. I love the Long Tailed Tit which arrive in a group of six or eight. The occasional Goldfinch and Goldcrest are attractive, too. Without fail each year the woodpeckers feed - here is a young woodpecker enjoying a snack.
Work wise the recession has not been too unkind to me. This month my Harry Potter Video Game TV commercial voice-overs went to air. I believe they are being used in English speaking countries across the world. I have also been busy providing voice-overs for a growing number of Talking Telescopes at tourist locations around the UK and I have been replacing all Avis Car Rental's phone messages for at least six months now. The real problem with the recession is the danger of a company failing before paying for its audio. So far I have been lucky and have but one or two bad debts. The biggest irony is a Financial Solutions company in Sheffield which offers advice to those in debt and which has refused to pay for a voice-over without any explanation! That company now has a County Court Judgement against its record. Ah well.
Fingers crossed for the rest of the year.