New Year Resolution
I think my resolution for 2008 will have to be to post regular blogs! Easily said - let's see if if I can keep it up.
In October last year I posted a couple of photos of Venice. Imagine my surprise yesterday while reading the Airmiles mini-brochure for January when I came across my photo! I vaguely remember submitting it for a competition or somesuch but had no idea it would be used professionally. Airmiles have credited me as the photographer. Now, I have written to them to ask if they will credit me with some miles. Cheky? Maybe. If you don't ask you don't get.
Most of last year seems to be a blur of busyness. I think I need 36 hours a day to get everything done. Maybe it's something to do with being a grandfather (Papou actually - that's the Greek version). Although I am far too young to be a grandfather it is fun - especially to such a good looking boy.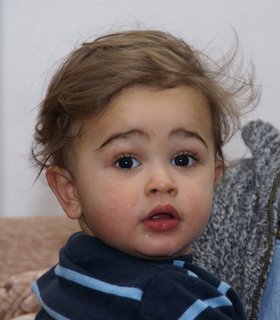 We took him to Greece in the summer for a family holiday and to meet his other grandmother. He did really well on the journey and in the heat.
In September I enjoyed a sibling fest in the Algarve with my brothers and sister. If you have never enjoyed a genuine Portuguese Cataplana or eaten Chicken Piri Piri at one of the restaurants above Monchique then you haven't really experienced the best of Portuguese cooking. Sadly, I was too far south to visit my colleague Paulo for whom I voice a lot of programmes.
Christmas in the world of voice-overs quietens down much earlier than it used to. In the old days we would be travelling to a studio or radio station or two on Christmas Eve. Nowadays the phone tends to stop ringing a week before Christmas. The New Year has started with a flurry of voice-overs for phone messaging, an events organiser, an Asian TV station, a group of schools in the USA and a company offering maedical advice in Qatar. Not bad for the first week. I hope it continues to flourish!