Spring forward Fall back
We have seen in a New Year and the season is changing once more - but what a roller coaster the last months have been. The family suffered a loss in November but rallied well for Christmas. A plague of illnesses littered the winter months, including the voice-over's nemesis... laryngitis. The fires in Victoria, Australia, though, put all our woes into perspective and the horror was made the more frightening by the concern for close friends in that region. They survived the fires but came so close to danger. The fire came within 10 metres of the house and then, miraculously, sped off in a different direction. This picture shows the trees along the nearby creek igniting. It was a shock to see Michael on the Australian TV news and to see how shaken he was by the experience.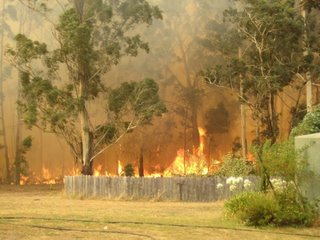 I heard from another friend in Melbourne that Leonard Cohen gave 200,000 australian dollars of his concert fees towards the funds to help victims. He announced this at one of his Melbourne concerts but I have never seen it in the news. The good news is that just two weeks after the fires the regeneration began. Here is a striking shot of the new life against the charred ground.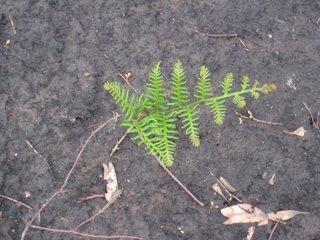 I experienced my own little bit of magic in December. Just when the workload was looking rather slim Harry Potter came to the rescue. Sometime this year my voice will grace some TV commercials across the world for the new Harry Potter video game. The last month has been exceptionally busy and with quite a variety of work. I voiced a rather nicely put together travelogue for the Danube Delta, have taken over production of all audio for Talking telescopes around the country and, if you rent from Avis Car Rental, allow my voice to guide you through their telephone service.
Now - if I can just find enough time to complete construction of the new cubicles for our Boarding Cattery, prepare the programme for the International Folk Dance Festival and make some new demo material for the big Radio Industry/Voice-overs event before swanning off to Rhodes for a holiday - all will be well.